Thieves steal RAF helmet and mask from Seaford Museum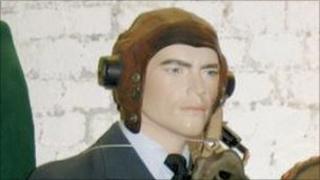 A helmet and mask has been stolen from a model of an RAF officer at a museum in East Sussex.
Seaford Museum said thieves had taken advantage of its trust because it did not keep all exhibits behind glass.
The helmet was on loan to the museum and owned by a Seaford resident who had strong family connections with the item, spokesman Mick Barrett said.
The theft, which happened last Wednesday, is being investigated by Sussex Police.
A statement issued by the museum said: "Seaford museum is run entirely by local volunteers and the meagre admission price is necessary to pay large running costs, mostly electricity and insurance.
"Thefts of this nature are show a complete disregard of consequences to the museum and owners of artefacts.
"Such sneak thieves are only interested in a quick profit for themselves by probably selling on this relic of our heritage."
Coastline and shipwrecks
The museum is housed in a Martello tower which was built as a defence when Napoleon threatened to cross the English Channel in 1803. It is one of 103 Martello towers built around the coast from Suffolk to Eastbourne.
The museum records the town's history as a Cinque Port, and includes tableaux of shops, schoolrooms and kitchens, collections of early 20th Century domestic appliances, early office machinery and a large collection of radios and television sets.
It also has a working model of Seaford railway station in 1926, wartime memorabilia and information on the changing coastline and the history of shipwrecks in the area.
The museum is open on Wednesdays, weekends and bank holidays during the summer, and on Sundays and bank holidays during the winter. Admission is £1.50 for adults and 50p for children.