Community group huts in Crawley hit by arsonists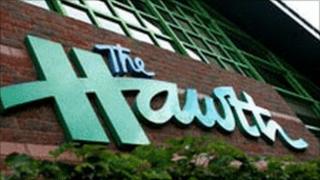 Allotments and huts used by community groups have been targeted in a series of arson attacks at a recreation centre in West Sussex.
Police said huts used by Crawley Model Railway, Ariel Theatre Company and Crawley Slot Car Club were destroyed in fires at Tilgate Forest.
Fires were also started deliberately at Tilgate Golf Club and on land behind The Hawth Theatre in Furnace Green.
The fires took place during the evening of 25 July and early the next morning.
Tilgate Forest Recreation Centre was originally a Canadian Air Force dormitory during WWII but is now used by many local groups.
'Hard work'
Det Con Andy Wolstenholme said the groups were a valued part of the community.
"As a result of the fire they have all lost many years of hard work and dedication in building up the infrastructure, reputation and membership of their societies," he said.
A Sussex Police spokeswoman said West Sussex Fire and Rescue Service (WSFRS) had received several reports from members of the public about the series of fires.
Police are working with WSFRS to track down the arsonists.
Mr Wolstenholme said he wanted to hear from anyone with information, especially anyone who was in the area of the nearby K2 sports centre at about 0200 BST who saw a vehicle leaving the area.