Hastings pirates smash world record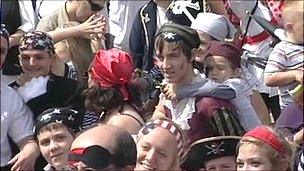 Thousands of people dressed as buccaneers and seadogs have smashed the world record for having the largest number of pirates in the same place.
A total of 6,166 pirates, including some from as far away as Holland, took part in the record-breaking meet on Hastings beach in East Sussex.
The previous record was set in Germany on 4 July, where a crew of 1,800 pirates assembled.
The Guinness World Record team was in Hastings to verify the result.
Organisers said a 40-strong troupe arrived from the Netherlands to take part in the attempt.
A group from Staines, Surrey, also swelled the numbers with two coach loads of cut-throats.
Six Sussex bonfire societies - whose members are usually seen dressed in their "smuggler colours" with stripy tops and caps - also joined the crowd.
The bonfire societies used drums to call pirates from around the town to the beach for the world record attempt on Friday afternoon.
Tarika Vara, from the Guinness World Records, said: "Hastings isn't that large so for me this is very surprising.
"Mass participation records are very hard to beat so we always keep that in mind.
"This is just extraordinary and I'm so proud of the organisers and for Hastings."
According to their criteria, people could only qualify as pirates if they wore a pirate hat or bandana and eye patch, a striped or plain T-shirt, tatty or rolled up trousers or a pirate-style skirt, and an accessory such as a sword, a musket, a pirate flag or a parrot.
Related Internet Links
The BBC is not responsible for the content of external sites.