Hickstead showground rips up jumping arena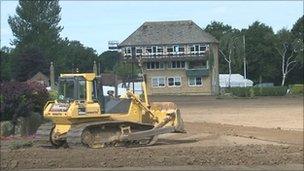 The grass at Hickstead showground in West Sussex has been taken up as a new drainage system is put in place.
Heavy rain during last year's Nations Cup prompted the venue to find ways of preventing the arena from becoming waterlogged.
The ground, which has hosted show jumping events for half a century, is spending £500,000 fixing the problem.
Engineers are currently installing the drains before the area can reseeded in the coming weeks.
Hickstead director Edward Bunn said: "The reason we have done it is we can produce perfect ground in dry summers like we've had this year but we can't produce perfect ground when it gets wet, so we are going to have a standard surface, wet or dry, which will be one of the best riding surfaces in the world."
The work is being streamed live via a webcam on the show ground's website.
Related Internet Links
The BBC is not responsible for the content of external sites.