Number of sparrows increases at Pulborough Brooks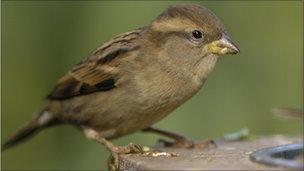 There has been a dramatic increase in the number of house sparrows at a West Sussex nature reserve, according to the RSPB.
Staff and volunteers at RSPB Pulborough Brooks said numbers had shot up from two pairs to up to 60 birds.
The charity said it appeared the local sparrows had bred very successfully.
The UK population of house sparrows has declined by about 62% in the last 25 years and it is now listed as a species of high concern.
The recent declines have been blamed on a lack of nest sites and food shortages.
RSPB warden Pete Hughes said: "House sparrows used to be a rare bird around the visitor centre - more than two constituted a large flock!
"This spring at least two pairs have bred successfully around the buildings here, and presumably have brought a few friends from a nearby site.
"At the moment there are at least 40 and probably 60 birds around the place. Many of them are juveniles showing it has been a bumper year for the local sparrows, much to our delight."
Related Internet Links
The BBC is not responsible for the content of external sites.