Parent's plea over terminally ill son's Sussex housing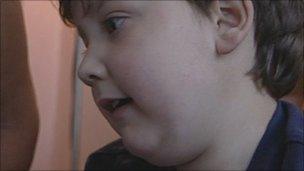 Parents of a terminally ill Sussex boy said time was running out for them to be re-housed closer to their family.
Kieran Browning, six, has an inoperable aggressive brain tumour and doctors estimate that he has months to live.
His parents Nick and Vickie, who currently live in Hastings, said they needed to move to Eastbourne to enable them to get vital family support.
Eastbourne Borough Council said they family were a high priority but there was an an acute accommodation shortage.
The family, who currently live in private accommodation, have been on the housing list since Kieran was diagnosed in December but said if they were not moved soon it would be too late.
Mr Browning said: "We're now being put on to the priority list and still nothing is happening.
"If they leave it a couple more months it's going to be too late. We just want to get back there [Eastbourne].
An Eastbourne Borough Council spokeswoman said: "The council has every sympathy with the family's wish to move to Eastbourne as quickly as possible.
"The council's lettings policy seeks to be fair to all our applicants and we have always afforded Mr and Mrs Browning the highest possible priority for re-housing.
"In common with many other areas in the south east the availability of suitable accommodation is very low due to a shortage of two bedroom homes.
"This issue is exacerbated by the extremely high demand for social housing from other families with acute housing needs.
"We are not able to comment in further detail on individual cases but we shall remain in contact with Mr and Mrs Browning and give them as much help as possible."
Related Internet Links
The BBC is not responsible for the content of external sites.