Council defends dog fouling swear word posters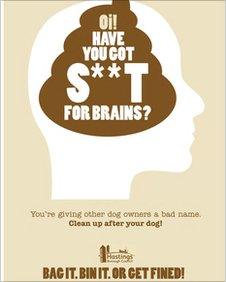 Council leaders have defended their use of swear words on posters in Sussex to try to tackle dog fouling.
Hastings Borough Council has urged residents to download the new posters from its website, which tell dog walkers to clear up after their pets.
One reads: "Oi! Have you got s**t for brains?" Another says: "Oi! We're not taking your s**t any more!"
Some residents believe the posters are offensive but the council said it had huge support for the campaign.
One resident, who did not want to be named, told the BBC: "They are horrible.
"What kind of impression does this give of the town? And for children - I don't want to be explaining to children why they can't use that word but it's ok to see it on posters."
Council spokesman Kevin Boorman said the authority believed it was a "good campaign" and believed it would work.
He added: "While they [residents] might find the posters offensive - it's not nearly as offensive as treading in dog mess and bringing it home.
"Dog mess is one of the most important subjects that people bring to our councillors' surgeries. Every time councillors talk to people they bring up the problem of dog mess.
"We don't like people taking dog mess home. We don't like people treading in it. We don't like children playing in it. We want to stop it. This will help do that.
"The overwhelming support so far is for the campaign, not against it."
Related Internet Links
The BBC is not responsible for the content of external sites.