Couple kiss on 60 seaside piers before Brighton wedding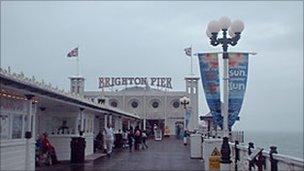 A Somerset couple have been travelling the country in an attempt to kiss at the end of every seaside pier in Britain before they marry in October.
Hazel Costin and Jay Preller said they only had two piers to go, one being the Grand Pier in their hometown of Weston-super-Mare, currently being rebuilt.
The other is Brighton Pier in Sussex - the planned venue of their wedding in two months' time.
The couple, who met on the Grand Pier, said the challenge had taken two years.
According to the National Pier Society, there are 55 piers in Britain although Ms Costin and Mr Preller say they visited five others which are not recognised by the society, including one in Gravesend, Kent.
Ms Costin said: "We started doing it very quietly and incognito until we decided we would like to go to Ramsey Pier on the Isle of Man and we had to ask the Manx government for permission because it was currently closed and they brought along a journalist who publicised it."
The couple had originally wanted to get married at the Grand Pier in Weston-super-Mare but its pavilion was destroyed by fire in 2008.
It had been due to reopen in June but its owners recently announced that one of the main subcontractors working on the project had gone into liquidation.
Related Internet Links
The BBC is not responsible for the content of external sites.