Inquiry after nearly 1,000 fish die in Sussex river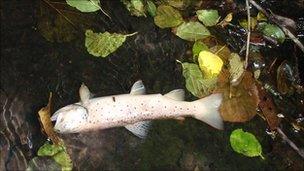 An investigation has begun after nearly 1,000 fish and aquatic animals were killed in a 2km (1.2mile) stretch of river in East Sussex.
The Environment Agency said 700 brook lampreys, 200 trout, 40 bullheads and three eels were found in a tributary of the River Line in Battle on Thursday.
It said initial tests suggested raw sewage had caused the fish to die.
Southern Water reported to the agency that a pumping station up stream of the dead fish failed on Saturday.
The problem was fixed on Monday.
Jamie Benton, from the Environment Agency, said: "It's always upsetting when fish die on this scale. We are conducting a full and thorough investigation into this incident.
"We have taken samples from the river to see how bad the pollution is, in case we can use oxygenating equipment to rectify the situation.
He added: "Sadly, we have concluded there is little further we can do as the pollution has already taken its toll in the environment.
"Southern Water Services have offered support and will tanker away remaining pools of sewage in the river around the pumping station."
A spokeswoman for Southern Water said: "We very much regret any pollution incident.
"Investigations are taking place to establish the cause of the incident in the River Line.
"Our crews are working to mitigate any environmental damage and we are working closely with the Environment Agency."
Related Internet Links
The BBC is not responsible for the content of external sites.