Bodiam Manor School shuts due to falling pupil numbers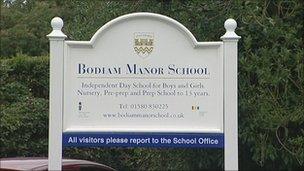 An independent school in East Sussex founded more than 50 years ago has closed due to falling pupil numbers.
Bodiam Manor School has been placed into administration and will not re-open after the summer holidays.
Director Lindsay Badenoch said "despite every effort" numbers in the school had fallen, with just 100 children on the roll for the beginning of next year.
It is understood that most of the 100 pupils have now found places at other schools.
Ms Badenoch said there was "no possibility" of the school meeting its financial commitments now and in the next academic year.
She said the decision to close the school, near Robertsbridge, had been taken with "great regret and sadness", and the priority was to help find pupils suitable alternatives, and to help staff to find alternative employment.
The day school taught boys and girls aged between three and 13 years old.
Staff said they were shocked to hear of the school's closure, which came without any warning.
Angela Turner, of the Association of Teachers and Lecturers, said: "There was a new head last September, and there had been some restructuring, and all indications were the school was going forward, and now it's not."
She added: "We are angry that the school has closed without notice, leaving the loyal staff high and dry, without a job and out of pocket."
Staff have been advised to go through the redundancy payment service to try to get their pay for August.
Related Internet Links
The BBC is not responsible for the content of external sites.