Drusillas zoo donates hair to Mexico oil spill clear-up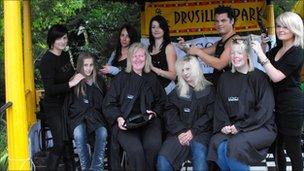 Staff and visitors at a zoo in East Sussex have taken part in a local appeal to donate human hair to help mop up the oil spill in the Gulf of Mexico.
Nearly 60 people had their hair cut for free at Drusillas Park by Jal Clarke, of Icon Stylists in Eastbourne.
He launched the appeal in July after learning that aid workers intend to use human and animal hair stuffed into nylon tights to mop up the slick.
The hair is laid along the shoreline and the oil clings to the follicles.
Last month Mr Clarke visited the zoo accompanied by Eastbourne MP, Stephen Lloyd, to collect shorn llama and alpaca fleeces.
Icon Stylists still require human hair, old hair extensions, animal hair and nylon tights and are appealing to businesses that work in these areas to collect any donated items in a bin bag.
Mr Clarke said: "We have had great support so far from Drusillas but we urgently need a lot more hair or fur for the oil spill catastrophe.
"The aftermath of the devastation this oil has caused has already destroyed so much sea life. We need to act fast for our future generations."
Related Internet Links
The BBC is not responsible for the content of external sites.