Brighton bus sex attack witness sought by police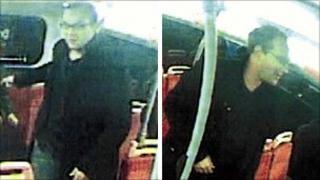 Police have released CCTV images of a man they think witnessed a woman being sexually assaulted on a Brighton bus.
A 24-year-old Brighton woman was assaulted as she travelled on the Night 25 bus towards Falmer from Churchill Square at about 0215 BST on 18 August.
Sussex Police said the witness got off the bus before the victim alerted the driver in Coldean Lane.
An 18-year-old Brighton man was arrested shortly after the incident on suspicion of assault by touching.
He was later released on police bail.
Det Con Mors O'Connor said: "This is a serious and distressing crime. I'm keen to speak to a man who may not have realised any crime was being committed, but may still hold information pertinent to this investigation.
"The witness is believed to have got on the bus at the Old Steine and spoken to the suspect, who initially sat next to him."