Memories of Birling Gap as cottages are lost to sea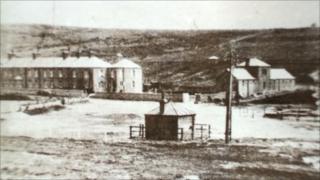 Fireplaces and wallpaper could be seen exposed on the cliff edge and hanging off interior walls when the first cottage was demolished at Birling Gap.
Stephanie Fawbert, now 46, was eight when the demolition teams started work in 1972.
Before the first cottage was knocked down, its conservatory was already hanging over the Sussex cliff edge.
She remembers "grannies sitting and staring" from the Birling Gap Hotel as the first property came down.
Birling Gap, a dip in the cliffs, is eroding at a rate of a metre (3ft) a year - compared with the steep Beachy Head cliffs nearby which are disappearing at a rate of 50cm (19in) a year.
In the past three decades, residents have fought a campaign for coastal defences and lost at a public inquiry. The National Trust charity wanted the landscape to erode naturally, and has since bought most of the properties which will be demolished.
The charity has now set up an oral history project so residents can share their memories of "the Gap".
But it has also defended the move against claims that the project will create a "false history".
'Stunningly dramatic'
National Trust education warden Natasha Sharma said the charity wanted to listen to the community, find out what they wanted from the project, and provide something that everyone would like.
But Ms Fawbert, who has spoken out against the National Trust plans, said: "I find it quite extraordinary that they are trying to create some sort of cutesy view of 'Ye Olde Birling Gap'.
"It's true that many thousands of people love it. But it's like a lunar landscape. It's not cutesy or cosy. It's extraordinary.
"The physical geology of the place is so dramatic and powerful.
"On a lovely day there's nothing like it, it's stunningly dramatic.
"On wildest winter days it's also wonderful, not cosy. It's something hard, and tough."
Ms Fawbert, who has spent holidays at the cliffs since the age of two, inherited one of the properties from her parents and spent some years there as a permanent resident.
She and her family now live in Hastings and use the cottage as a holiday home. But within four years the eroding cliffs will have made it too dangerous to inhabit and the demolition teams will move in.
'Incredible sunsets'
Her childhood memories include climbing down the cliffs using a fisherman's ladder to get to the shingle beach, and seeing her brother hang over the cliffs to reach seagulls' eggs. One year someone was blown off the cliff but escaped with a broken wrist. And three years ago, she gave birth to her daughter in the cottage.
Ms Fawbert, who once hoped her children would enjoy Birling Gap for many more decades, said: "I remember the wonderful freedom of being a child here.
"We lived outside. There was the wildlife, the insect life, fires on the beach, incredible sunsets, the children who came here and who still come here.
"And I'm a painter. The inspiration. I've done a lot of paintings of here. I used to paint the beach. We had shows here.
"We used to say how come we have ended up in this wonderful place."
The National Trust first appealed for people to share their memories in April. Since then, it has had 10 contributions.
Memories collected so far include a contribution from a man whose great-great grandfather was posted near Birling Gap as a coastguard, and a campaign fought by the Society of Sussex Downsmen against the development of a major coastal road.
On Wednesday, the charity will hold an open evening to seek more stories.