Sussex Police to cut 1,050 jobs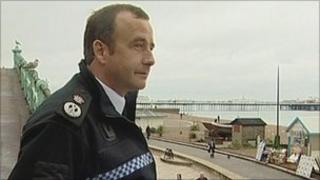 Sussex Police has announced plans to cut up to 1,050 police officers and staff over the next five years as a result of spending cuts.
Chief Constable Martin Richards said job cuts were inevitable as the force faced estimated budget cuts of £52m by 2015.
About 500 of the affected jobs would be police officers, the force said.
Mr Richards said it was an opportunity "to put people, not paperwork, at the heart of policing".
He said: "This means focusing on what matters most to the public and freeing our officers and staff from bureaucracy to do just that.
'Tough decisions'
"Jobs cuts are inevitable for both police officers and staff, but we aren't simply becoming a smaller force, we're fundamentally changing the way we police to put people at the centre of all we do.
"This means unburdening officers and staff from unnecessary paperwork and process, freeing them to use their initiative and respond to local needs."
He added: "The budgetary situation is not of our making and public organisations across the country are facing similar challenges.
"Of course we don't want any of our people to lose their jobs, but this is a reality when faced with spending cuts of this magnitude."
The Home Office has warned police forces in England and Wales to expect funding cuts in the government's Comprehensive Spending Review.
The force said its plans would be finalised after the results of the spending review were announced in October.
Steve Waight, the vice-chairman of Sussex Police Authority, said: "There are some very tough decisions that have had to be made in order to achieve necessary savings, and further difficult choices are still to come."
Caroline Lucas, the Green Party MP for Brighton Pavilion, said: "It's very hard to believe how you could slash 500 police officer posts and not lose some of the protection that the police are providing to people.
"I think it's inevitable that the fear of crime will go up, real crime will probably go up and these cuts will turn out to be utterly counter-productive."