Eastbourne inquiry into Pocock's Field plan begins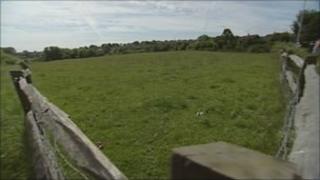 A public inquiry has begun into a proposed housing development on a field in East Sussex.
Developers Chatsworth Estate want to build up to 120 homes on Pocock's Field in King's Drive, Eastbourne.
They said the land had been earmarked for development since the 1970s and the scheme would bring much needed housing to the area.
Opponents are holding a demonstration outside Eastbourne Town Hall ahead of the three-day inquiry.
The residents are being backed by the Liberal Democrat MP for Eastbourne Stephen Lloyd.
He said: "We think it will make a devastating in-road into what is the heart of Eastbourne."
The borough council rejected an application from Chatsworth Estate to develop the land in July last year.
Craig Noel, an agent for Chatsworth Estate, said: "We believe our plans for high quality housing will provide much needed new homes for the people of Eastbourne."