Plans to improve access to Pooh Bridge unveiled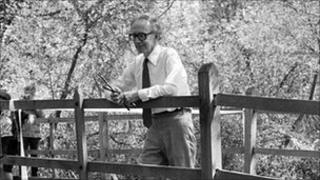 Plans to improve access to a bridge made famous in the Winnie the Pooh books have been put forward.
More than 35,000 people a year visit the wooden Pooh Bridge in Ashdown Forest, near Hartfield, East Sussex.
The bridge was the venue for the game Poohsticks in AA Milne's stories about the honey-loving bear.
A lack of car parking and footpaths hinders visitors, however. East Sussex County Council said it had agreed with the landowners to improve this.
These plans include a new car park improvements to paths.
Pooh Bridge was originally called Posingford Bridge and dates from at least 1907.
It inspired AA Milne, who lived in a house nearby, and was last rebuilt in 1999.
Councillor Matthew Lock, the cabinet member for the environment, said: "Pooh Bridge is an important part of our heritage."