Bexhill protest rally held over design of new shelters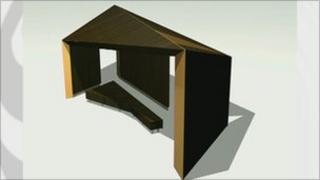 Hundreds of residents in an East Sussex resort have protested against plans to build four state-of-the-art shelters.
The designs for Bexhill seafront were commissioned after a national architecture competition.
Campaigners have expressed concerns about the "futuristic look" of the shelters, and whether or not they will provide protection from bad weather.
Rother District Council said the shelters would make the town more attractive to visitors.
'All people'
The shelters, which are open to the elements on three sides and have no backs to the benches, are due to be built by next February.
Campaigners against the new shelters held a protest rally outside the town hall on Monday.
Council spokesman Tony Leonard said: "We recognise that the Bexhill seafront is probably the unique selling point for people promenading along the seafront, so we've ensured that the width and the breadth of the promenade is still available.
"We've taken on board the comments needed for seating and for play areas down there for the younger families who do like coming to the seaside.
"It is not just a town for old people, it is a town for all people," he said.