Lemur from East Sussex zoo escape is recaptured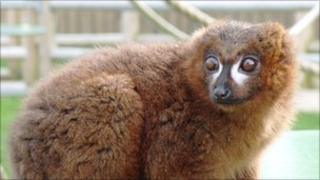 A red-bellied lemur that escaped from an East Sussex zoo has been recaptured.
The lemur - called Kirioka - leapt over an electric fence in its walk-through enclosure at Drusillas Park in Alfriston on 22 September.
Firefighters joined police officers and zoo staff in the search for the animal in nearby woodland.
But Mark Kenward, the head zoo keeper, said the animal was lured into a box filled with food at 1830 BST on Tuesday.
He said: "He is safe and well and back with all his friends.
"If an animal does escape, and I must emphasise it does not happen very often, we do get a bit panicked.
"We care for all our animals and we want to get them back as soon as possible."