Hastings Pier redevelopment designs sought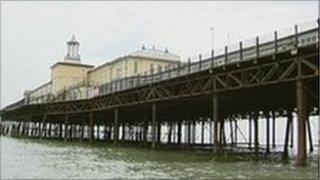 Architects have been invited to submit designs for the redevelopment of Hastings Pier, which has been closed for four years in East Sussex.
The Hastings Pier and White Rock Trust has set up the competition to develop the pier, which is currently closed.
Earlier this year, Hastings Borough Council agreed to buy the pier with a compulsory purchase order and hand it to the trust.
The decision followed a study which showed it could be made safe for £3m.
Campaigners have been fighting to secure the pier's future since it shut in 2006 amid fears it could collapse.
The pier was owned by Panamanian-registered company Ravenclaw, which the council said it had been unable to contact to discuss its future.