Sea defence work starts at Medmerry beach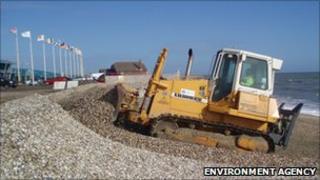 Bulldozers have started shoring up the sea defences on Medmerry beach to help protect areas west of Selsey.
The routine maintenance work will reshape the 15,000 tonnes of shingle that make up the flood barriers.
Barry Killner, of the Environment Agency, said: "Medmerry is one of the stretches of coastline most at risk of flooding in southern England."
If the shingle defences were breached, hundreds of acres of farmland, houses and caravan parks could be flooded.
The Environment Agency said that if the work is not done, erosion and movement of shingle could result in more than 348 residential and many commercial properties being left at an "unacceptable risk of flooding".
The agency has proposed plans for new defences to be built inland which would protect housing and key infrastructure for Selsey including the B2145, the area's wastewater treatment works and electricity substations.
"Public access will be improved and new wildlife habitats created as part of the works", said the agency.
A planning application has been submitted to Chichester District Council.