Flood prevention advice to homes in Haywards Heath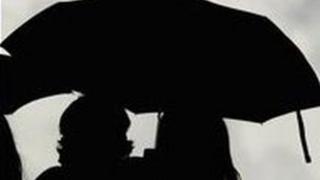 A local council has urged residents in West Sussex to report blocked gullies and drains to help reduce the risk of flash flooding.
Dozens of homes in Haywards Heath were badly damaged following heavy rainfall in August.
West Sussex County Council said the drains were unable to cope with the "exceptional rainfall".
Stuart Smith, a service manager at the council, said any blockages should be reported.
'Drain system'
He said: "It's very difficult with flash flooding because you can never predict where it's going to happen.
"If people can see a gully which is blocked or flooding, either brush off the leaves or sticks that are amassed on there or let us know.
Helen Kellerman's mother Joan had to move out of her house in Vale Road following the flood damage.
She said: "The drains near to my mum are really old Victorian drains and they can't cope with so many people using them."