Warning after contaminated vodka found in Hastings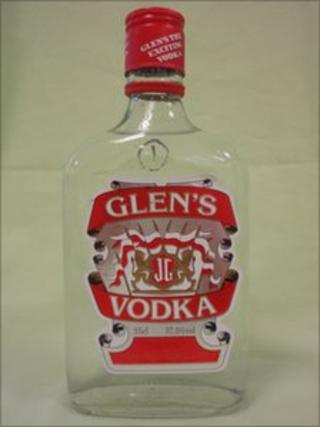 Contaminated vodka found in a shop in an East Sussex town has led to a warning from trading standards.
The vodka is thought to be counterfeit and is branded as "Glen's vodka" 37.5% ABV, in 35cl bottles.
East Sussex County Council trading standards said officers found a contaminated bottle in an independent off-licence in the Hastings area.
The bottles have lot codes 92960459 and 92960456 printed below the cap, and particles can be seen in the liquid.
'Less alcohol'
An analysis of two bottles taken from the shop revealed that the vodka contains dangerous levels of methanol, which if consumed could cause abdominal pain, drowsiness, dizziness, blurred vision leading to blindness and breathing difficulties.
Symptoms of methanol poisoning can be delayed for several hours
The vodka also contains less alcohol than that declared on the label.
Trading standards officers said genuine Glen's vodka had a production lot code etched into the glass by laser and on the 35cl bottles the lot code was located below the back label.
Anyone who suspects they have a counterfeit or contaminated bottle or who sees one on sale should contact East Sussex County Council trading standards.