Dog-walker 'grabbed Hastings Pier arson suspect'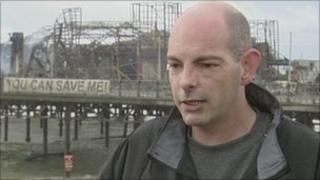 A dog-walker has described the moment he helped apprehend a suspected arsonist moments before Hastings Pier went up in flames.
Kevin Pearson, 35, said he grabbed hold of the suspect after spotting two men jump off the pier early on Tuesday.
He said: "The adrenaline started flowing and that was it. I didn't even think about the consequences afterwards."
Two men arrested on suspicion of arson have been released on bail.
Mr Pearson had been out walking his dog on the beach in the early hours of Tuesday.
'Lot of emotion'
He said: "I heard breaking glass on the pier and could see it was on fire. I could see the flames coming out of the (ballroom) window.
"There were two guys who poked their heads up behind a building at the back of the pier. I walked along to see what was happening and they jumped off the pier.
"I managed to grab hold of one of them and walked back up with him and the police took him.
"I just had to sit around watching the pier burn. There was a lot of emotion and people were gobsmacked. It's devastating."
Up to 95% of the pier has been destroyed and Hastings Council has warned that the structure is at risk of collapsing into the sea.
Bexhill and Battle fire station commander Mark Webb said firefighters were working with a structural engineer to tackle remaining pockets of fire underneath the pier.
Campaigners for the restoration of the pier have said they still hope it can be salvaged.
The Conservative MP for Hastings and Rye Amber Rudd has now also pledged her support.
She said she would seek support from the government if a survey showed the pier had a substructure that could be salvaged.
However, Tim Phillips, of the National Pier Society, said he feared it would not be possible.
He said: "I must admit, having seen the footage, it doesn't bode well. I would put the chances at something less than 50%."
Two men, aged 18 and 19 and from St Leonards, were arrested and detained for questioning as crews fought the flames.
Both teenagers have been bailed until 2 November.
The pier, which opened in 1872, was originally 910ft (280m) long. It closed in 2006 because of fears it had become unsafe.