Saga Group to create 800 call centre jobs in Hastings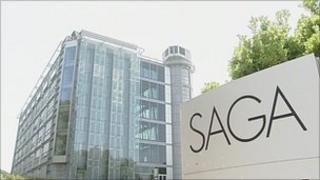 Plans to create up to 800 jobs at a new call centre in Sussex have been announced.
The Saga Group, which specialises in products and services for the over-50s, said it intended to buy the One Priory Square office block in Hastings.
If the purchase goes ahead the firm will become the town's largest private sector employer.
The company, which has its headquarters in Folkestone, Kent, said it hoped to open the site in the new year.
Roger Ramsden, chief executive of Saga Insurance. said: "Saga customers like a personal service and prefer speaking with people based in the UK.
"Hastings is an ideal location. Priory Square is in the town centre and has good public transport links and the building will provide a great working environment.
"We aim to attract, train and keep the best talent that Hastings has to offer."
Peter Jones, Conservative leader of East Sussex County Council said: "I welcome the exciting news that Saga is coming to Hastings and planning to create 800 jobs.
"This is a vindication of all the endeavours of local partners and the private sector to make Hastings and East Sussex an attractive place in which to invest."