Fire crews return to Hastings Pier to tackle hot spots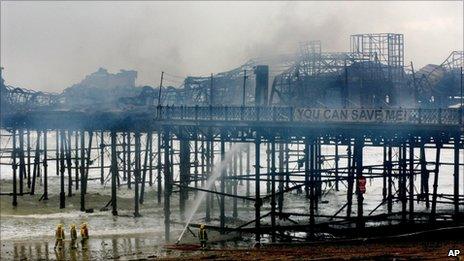 Fire crews have been dealing with hot spots that re-ignited on Hastings Pier nearly three days after the blaze at the derelict structure.
East Sussex Fire and Rescue said it had been tackling fire pockets throughout Thursday and believed there was more further down the structure.
The pier has has been smouldering since Tuesday's suspected arson attack destroyed up to 95% of the site.
Two teenagers arrested on suspicion of arson have been bailed by police.
Fire crews have been unable to gain full access to the pier and have been monitoring the hot spots.
A spokeswoman for East Sussex Fire and Rescue service said: "Crews returned at 2.30pm and were still there at 4.20pm damping down a few more hotspots.
"Firefighting tactics are now dictated by the tide timetable and they returned this afternoon when the tide was out, enabling them to reach other parts of the pier.
"The hidden areas of fire were identified and it is believed there are more, further down the pier, which crews are currently unable to access."
Hastings Borough Council has warned that the Victorian pier remains in a very dangerous state and has advised people to stay away from it as the risk of collapse is high.
It said under no circumstances should people try to gain access under the pier.
A member of the public alerted police officers on patrol to a fire on the pier in the early hours of Tuesday.
Nearby residents also reported hearing a series of explosions.
Within a short time, the entire structure was engulfed in flames.
Emergency crews described seeing a plume of thick, acrid smoke and the ballroom reduced to a burning framework, with bits falling into the sea.
At the height of the blaze, about 50 firefighters were at the scene.
Two men, aged 18 and 19 and from St Leonards, were arrested and detained for questioning as crews fought the flames on the pier.
Campaigners for the restoration of the pier have said they still hope it can be salvaged.
The Conservative MP for Hastings and Rye Amber Rudd has also pledged her support.
The pier, which opened in 1872, was originally 910ft (280m) long. It closed in 2006 because of fears it had become unsafe.
Related Internet Links
The BBC is not responsible for the content of external sites.