Brighton hospital apologises for baby scan errors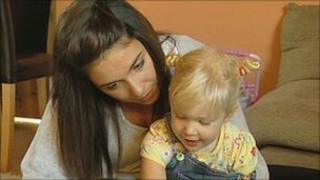 A hospital has reassured patients after being forced to apologise to two pregnant women who were wrongly told their unborn babies were dead.
Sofia Taylor, 22, refused to accept her baby was dead following a routine scan at nine weeks at the Royal Sussex County Hospital in August.
She demanded a second scan which showed her pregnancy was progressing normally.
Brighton and Sussex University Hospitals NHS Trust has agreed to implement extra safeguards.
Tony Kelly, a consultant obstetrician for the early pregnancy clinic, said every pregnant mother who had a scan which showed no foetal heartbeat would be invited back for a second scan a week later.
'Human error'
He said: "Although this will put extra demand on the service and go beyond the national guidelines, I am sure it is the right thing to do."
The hospital said it carried out 6,000 scans a year and its safety record was in the best 5% nationally.
In a letter sent to Ms Taylor and her husband last month, hospital trust chief executive Duncan Selbie said: "Human error of this sort is extremely unusual within the service.
"We have gone to some lengths already to investigate how this came about and to ensure that our processes and policies are sufficient so that we can be confident that a mistake of this nature will not happen again."
In 2007, a second woman was also told by staff at the same hospital that her unborn baby was dead.
'Extremely sorry'
Joanna Barro, 25, was told that they could not detect a foetal heartbeat when she went for a scan while eight weeks pregnant with her first child.
She was advised to go home and let the miscarriage procedure take its course.
She returned for a follow-up scan a week later as she refused to accept her baby was dead, and learned there was a heartbeat.
Ms Barro, from Peacehaven, went on to give birth seven months later to healthy 7lb 4oz (3.3kg) Ruby, who will be three in February.
She said: "When they told me that Ruby didn't have a heartbeat I just cried and cried.
"I had really wanted a baby for ages so I didn't want to believe that I had lost it.
"Call it a mother's instinct, but I didn't believe she was dead."
Hospital officials said they were isolated cases of human error which happened more than three years apart.
In a statement relating to Ms Barro, Mr Selbie said: "I am extremely sorry for the distress this must have caused Ms Barro in the early stages of her pregnancy."