Jay Abatan's brother's long fight for justice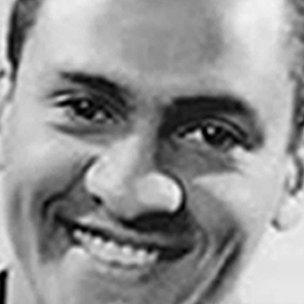 Michael Abatan's battle to find out who killed his brother outside a Brighton nightclub has lasted more than a decade.
Jay Abatan, a father of two young children, suffered serious head injuries outside the Ocean Rooms in January 1999.
Five days later, the 42-year-old's life support machine was turned off.
Two men were charged with manslaughter, but the charges were dropped before reaching court.
Michael Abatan has fought to find out exactly who struck his brother that night, causing him to fall and fracture his skull on the pavement.
He always hoped the inquest would provide an opportunity for new evidence to come to light.
Recording her verdict of unlawful killing on Monday, Coroner Veronica Hamilton-Deeley said the inquest had heard new evidence.
But she said it had still not been possible to determine who threw the punches that caused Mr Abatan to fall.
Speaking after the verdict, Michael Abatan said the family would not stop until all the truth came out.
The inquest was delayed by criminal proceedings and disciplinary hearings into the conduct of police officers involved in the case.
"Nothing will bring Jay back and as a family we will never replace him and it's a massive hole in our lives," Michael Abatan said beforehand.
"We will always love him and do the right thing for him.
"It does not get any easier. First of all losing a special member of our family but then not getting him justice is another thing.
"The third thing is having to fight every step of the way."
On the night of 23 January 1999, the two brothers and their friend Lloyd Jeffers tried to get into a taxi following their night out.
Believing the taxi to be theirs, one of them asked the two men inside to get out, while two other men stood beside him.
Jay, who lived with his partner Tanya Haynes in Eastbourne, East Sussex, fell to the floor. Forensic reports showed he had received at least one blow to the face.
Less than four months later at a memorial service, Michael spoke movingly of his relationship with his older brother, who worked as an accountant with a top London firm.
"He was my shoulder to cry on, he was my teacher and my protector," he said.
"He was truly a leader of men and he lived his life to the full and was a benchmark for everyone.
"If I could have chosen a brother, knowing what a brother was, there was no one I would have chosen but Jay."
Michael Abatan claimed there were significant failings in the police investigation and maintained there was a racist motive behind the attack.
In 2000, the Tory MP Peter Bottomley said the case had overtones of the murder of Stephen Lawrence, who was killed in Eltham, south-east London in 1993.
The death of Mr Lawrence, and the subsequent report by Sir William Macpherson that labelled the Metropolitan Police force "institutionally racist" ushered in sweeping reforms.
Mr Bottomley, who represented Worthing West, asked the police for assurances that the investigation "would have been the same if the victims had been white and the suspects had been white".
Since then, the Abatan family's campaign has been supported by Stephen's mother, Doreen Lawrence and the National Assembly Against Racism (NAAR).
The NAAR said the Abatan's struggle for justice showed that a decade after the death of Mr Lawrence, black communities still faced injustice in the criminal justice system.
Michael Abatan's complaints led to reviews by both Avon and Somerset and Essex Forces, and the Independent Police Complaints Commission.
The IPCC's report said the original investigation had suffered from disorganisation and was not given sufficient resources.
Two detective inspectors were later disciplined at a misconduct hearing.
In a separate hearing at the beginning of 2005, a detective superintendent involved in the investigation accepted five misconduct charges and was fined five days pay.
Speaking before the inquest, Michael Abatan said he hoped new evidence would be revealed which may yet lead to a prosecution.
He said: "It's the right thing by Jay to say exactly what happened to him.
"We hope to see new evidence that is substantial and the police can reopen the investigation and we can get justice for Jay.
"I just want to give people the opportunity to say what they saw."
Related Internet Links
The BBC is not responsible for the content of external sites.