Hastings Pier fire extinguished after four days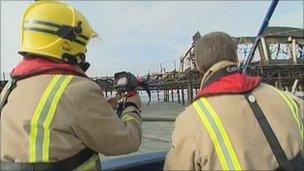 A major fire which destroyed historic Hastings Pier in East Sussex has been fully extinguished after four days.
Fire crews left the structure at midday on Friday after an inspection of the pier by Station Commander George O'Reilly.
Firefighters spent the morning taking thermal images of the pier from a boat and found no remaining hot areas where the fire could take hold again.
An investigation is continuing into the cause of the fire.
After inspecting the pier, Mr O'Reilly said: "It is hard to say that it is completely out until we can start removing the debris, but there are no concerns from my point of view."
At the height of the blaze in the early hours of Tuesday, about 50 firefighters were at the scene.
The fire, the result of suspected arson, destroyed up to 95% of the upper part of the pier.
Two men, aged 18 and 19 from St Leonards, were arrested and bailed until 2 November.
The fire was under control by 0800 BST on Tuesday but the structure continued smouldering and East Sussex Fire and Rescue Service was still fighting fire pockets on Thursday.
Mr O'Reilly said it was not possible as yet to say exactly where the fire started.
Witness Kevin Pearson, 35, who grabbed a suspect after spotting two men jump off the pier early on Tuesday, said he saw flames coming from the ballroom.
Structural engineers are to begin examining the remains of the pier on Monday to see if it can be restored.
Buildings on the pier have collapsed into the sea and security patrols are stopping people from walking beneath the structure.
The pier, which opened in 1872, was originally 910ft (280m) long. It closed in 2006 because of fears it had become unsafe.
The day before the fire, the Hastings Pier and White Rock Trust invited architects to submit designs to redevelop the attraction.
Related Internet Links
The BBC is not responsible for the content of external sites.