Debris still falling from Hastings Pier after fire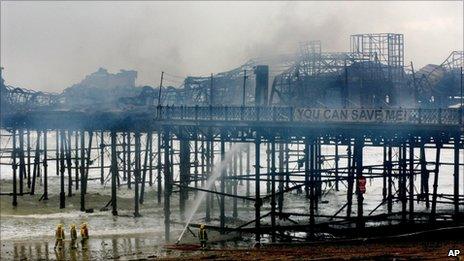 Debris continues to fall from historic Hastings Pier a week after it was devastated by fire, experts have said.
Structural engineers from engineering company Gifford said they have "extreme public safety concerns" following an initial examination of the structure.
The fire, the result of suspected arson on 5 October, destroyed up to 95% of the upper part of the pier.
Hastings Borough Council said its first priority was to make the pier, which had been closed since 2006, safe.
A spokesman said: "It is still too early to assess whether the condition of the pier in the previously identified areas of concern has deteriorated further.
"In particular, there is a continuing risk of progressive collapse, and the engineers are advising the council on how this risk can be reduced."
The day before the fire, the Hastings Pier and White Rock Trust invited architects to submit designs to redevelop the attraction.
Trustee Jess Steele said: "Clearly the fire last week was a major blow to us.
"However, the initial investigation shows that there is still real hope and we will re-double our efforts to ensure that the pier does have a future."
Councillor Jeremy Birch, the leader of the Labour-controlled council, said the local authority would give the pier its "very best shot".
He added: "Clearly public safety is our first concern and we will continue to do all we can to ensure that this is not compromised."
Two men, aged 18 and 19 from St Leonards, were arrested on suspicion of arson and bailed until 2 November.
Related Internet Links
The BBC is not responsible for the content of external sites.