Reward offered over Brighton Greek Orthodox Church fire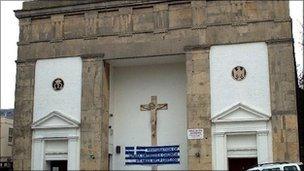 A £10,000 reward has been offered in the hunt for an arsonist who destroyed a Grade II listed church in Brighton.
The blaze on 4 July destroyed the interior of the Greek Orthodox Church in Carlton Hill and caused an estimated £500,000 of damage.
Services have been held at St Michael's Church in Brighton since the fire.
Sussex Police said the money for the reward had come from public donations and was being offered for the arrest and conviction of the arsonist.
Chairman of the Greek Orthodox Church Committee, Stephen Papadopoulos, said: "Saint Michael's has been absolutely fantastic in offering us their space to use, but it is not the same as having your own church.
"Some members of the congregation have been scared to go to church since the fire and others have had to hold weddings, Christenings and funerals in other churches, including my daughter who was due to get married shortly after the fire."
Det Sgt Colin Jaques, of Sussex police, said: "The fire has had a significant effect on the church congregation, including the children who used an area of the church as a classroom.
"A full investigation is under way and detectives have been making extensive enquiries and forensic examinations of the building have taken place."
Officers also renewed their appeal for information about the owner of a blue Renault Scenic that was seen near the church shortly before the fire started.
The Grade II listed church was formerly an Anglican place of worship.
Related Internet Links
The BBC is not responsible for the content of external sites.