Man 'murdered' during East Sussex farm burglary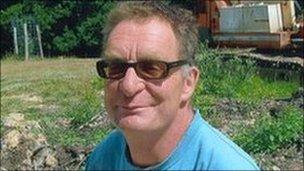 Police believe a man who was found dead at his East Sussex farm may have been murdered when he disturbed burglars.
The body of Julian Gardner, 53, was found near his home at Bush Barn Farm, off the A21 north of Robertsbridge, on Monday morning.
Det Ch Insp Adam Hibbert said: "We are treating this as a murder inquiry and believe that this was a burglary that went wrong, with tragic consequences."
Police think Mr Gardner may have discovered burglars in outbuildings.
The force is investigating whether two burnt-out cars discovered a few miles from the site were used during the raid.
Det Ch Insp Adam Hibbert, of Sussex Police, said: "Julian Gardner possibly disturbed an unknown number of people forcing outbuildings, where he ran an agricultural and car repair business.
"He was found near the buildings by his business partner just after 0800 BST on Monday."
Det Ch Insp Hibbert added: "We are investigating the discovery of a couple of cars - Land Rover and Jeep - that we found abandoned a few miles from the site yesterday but any possible connection to this incident is still being assessed.
"This is a tragic incident and my thoughts are with Julian's family. We do not know who is responsible. We rely on the public to come forward."
He added that part of the police investigation would be to try to establish what may have been stolen from the premises.
Police have revealed that Mr Gardner called them on two previous occasions about "low-level" offences at his farm.
A spokesman said the incidents in 2008 and 2009 were unrelated to burglaries.
Mr Gardner, who was a bachelor, was well-known locally as an expert on repairing Land Rovers, and lived with his 90-year-old widowed mother at the farm.
A post-mortem examination was being carried out on his body on Tuesday.
A tribute from his family said their lives would never be the same again.
In a statement released through Sussex Police, Mr Gardner's mother Molly Gardner and his sister Anna Murphy said: "Julian was our son, brother and dear friend and nothing will ever be the same in our lives without him.
"He had so much more living to do. If only he had known how many people have had their lives enriched by knowing him.
"He was so honest, so dependable, funny, loyal and hard-working.
"The space he leaves will never be filled."
A spokeswoman for the National Farmers Union (NFU) said local members had been warned to be "extra vigilant" following the incident.
She added: "He was not an NFU member but he was well-known locally. Rural crime is a concern in the South East and our members will be extra vigilant.
"We send our sympathies to Mr Gardner's family and the community."
Related Internet Links
The BBC is not responsible for the content of external sites.