East Sussex farm 'burglary' victim 'was not run over'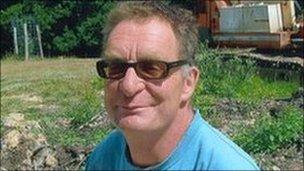 A man found murdered at his East Sussex farm died of multiple injuries, a post-mortem examination has revealed.
The body of Julian Gardner, 53, was discovered by his business partner near outbuildings at Bush Barn Farm, near Robertsbridge, on Monday morning.
He suffered several fractures and compression injuries but there was no evidence he was run over, police said.
They believe he was murdered in a burglary that went wrong between 2300 BST on Sunday and 0200 BST on Monday.
Mr Gardner's 90-year-old widowed mother, Molly, was asleep in the main farmhouse when he was killed.
Discounting initial suggestions that he had been run down by a vehicle, Det Ch Insp Adam Hibbert, who is leading the murder inquiry, said Mr Gardner's injuries were "consistent with being squashed between two objects whilst standing up".
He said Mr Gardner had possibly disturbed people forcing outbuildings where he ran an agricultural and car repair business.
Two burnt-out vehicles found abandoned a few miles away are being examined.
A Landrover Defender, which belonged to Mr Gardner, was found at Cripps Corner, and a Cherokee Jeep was found in Sandhurst.
Det Ch Insp Hibbert said: "If you look at the hypothesis of this being a burglary, one object of desire for burglars is motor vehicles, so it's a fair assumption that was their reason for going there."
Mr Gardner was a licensed gun holder and detectives are also exploring the possibility that a firearm might have been involved.
Detectives are appealing for anyone with information about the killing, or who has noticed any damaged 4x4 vehicles, to come forward.
Related Internet Links
The BBC is not responsible for the content of external sites.