Chichester turns down Christmas lights benefactor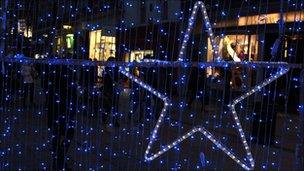 Hopes of lighting up a West Sussex city this Christmas have been dashed after the council rejected an anonymous contribution worth thousands of pounds.
Chichester Council said it could spend only £15,000 on lights and had asked businesses to pay the rest of the bill, which last year was nearly £31,000.
A benefactor stepped in to meet the shortfall when only £5,325 was raised.
But the council decided to turn down the offer saying there were too many conditions attached.
Councillors voted 13 to two not to accept the offer in its present form. It held a further discussion with the benefactor, a local businessman, but could not reach agreement.
"Our discussions with the businessman and his associates were helpful, professional and open," said Mayor Michael Woolley.
"We talked through all the issues involved (but) it was felt that the concept proposed needed more time spent on it than we presently have."
Councillor Woolley said 33 businesses had contributed and their cheques would be returned.
A spokesman for the anonymous donor said: "Naturally, we are disappointed that our project is not going to be implemented this year, but we will continue to develop it in the months to come."
Related Internet Links
The BBC is not responsible for the content of external sites.