'Tardis' to tackle anti-social behaviour in Brighton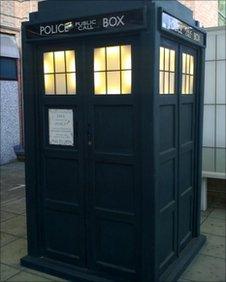 A car park kiosk in Brighton is being turned into a Tardis-style police box to tackle anti-social behaviour such as drug taking and theft from cars.
Community police officers will use the converted kiosk in the underground car park near St James's Street as a base to give a high profile presence.
The kiosk will also be used by officers for neighbourhood surgeries.
It follows complaints from residents about anti-social behaviour at the car park, owned by the city council.
Brighton and Hove City Council staff came up with the idea of turning the former attendants' kiosk into the Dr Who-style police box.
They are co-ordinating the project, which will use poster panels to give the kiosk its new look.
Insp David Derrick said: "This initiative is a great example of the local neighbourhood policing team and council working together, reacting to community needs.
"We will be based right within the community, making the team even more accessible.
"This is not a police station, but local residents are welcome to pop by and get crime prevention advice and make appointments to see officers."
Related Internet Links
The BBC is not responsible for the content of external sites.