Sussex animal rescue worker to receive award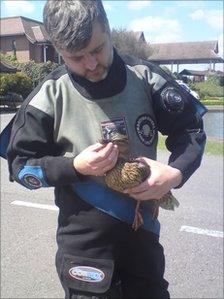 The head of a Sussex animal rescue charity is to be given a special award at the House of Lords in recognition of his work over the past three decades.
Mr Weeks, 38, the director of the Wildlife Rescue and Ambulance Service (WRAS), is being honoured by International Fund for Animal Welfare.
It is estimated that he has helped save 15,000 animals since he joined the Eastbourne Conservation Volunteers at the age of 13.
He set up the WRAS in the mid 1990s.
Mr Weeks will receive his honour during the Animal Action Awards ceremony at the House of Lords on Tuesday.
Robbie Marsland, of the International Fund for Animal Welfare, said: "We are very pleased to be able to reward Trevor's amazing dedication to rescuing British wildlife over so many years and wanted to recognise his outstanding contribution to animal welfare with our Rescue Award."
Mr Weeks said: "I am delighted to receive this award which is not just for me but for all those people in Sussex who have supported me and made this all possible, especially my girlfriend and family.
"I wouldn't be receiving this award if it was not for their support.
"It would be impossible to do this on my own and many casualties would suffer if it was not for all those people who have been so supportive and so caring."
In June Mr Weeks suffered from an "almost fatal but rare reaction" after he was bitten by an adder he was trying to free from some netting.
During the heavy snow in January he stayed at the WRAS site overnight to look after the animals because other volunteers had been snowed in.
Related Internet Links
The BBC is not responsible for the content of external sites.