Work to contain sewage spill at Shinewater Lake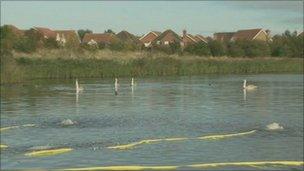 Work to contain a major sewage spill at a lake in East Sussex is going on around the clock.
Officers from the Environment Agency and Southern Water are at Shinewater Lake, in Eastbourne
It is thought a ruptured pipe caused sewage to leak into over a mile of stream. There are concerns fish and other wildlife could be affected.
Eastbourne Borough Council has advised angling clubs and water sports enthusiasts against using the lake.
Shinewater Lake is home to a country park, nature reserve and angling facilities.
Environment Agency staff are working with Southern Water to boost oxygen levels in the water by using aeration machines and hydrogen peroxide dosing.
There have been no reports of any fish dying, and it is understood the pollution has not yet reached the main body of the lake.
James Humphrys, Environment Agency regional director, said: "This is a serious incident which has affected the upper part of the Shinewater Lake.
"Environment officers are currently on site collecting evidence and sampling, and we have staff taking further samples from the river and doing some ecological monitoring."
The Environment Agency said it believed it had traced the source of the pollution. An investigation is taking place.
Related Internet Links
The BBC is not responsible for the content of external sites.