Spending Review: Council unveils commissioning overhaul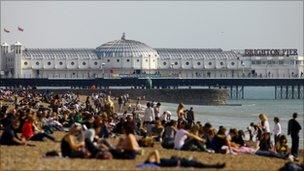 A council is planning to make savings by overhauling its senior management structure and commissioning process.
Conservative-controlled Brighton and Hove City Council said the new system would improve services while increasing efficiency.
It said under its new "intelligent commissioning" structure, the voluntary sector, social enterprises and companies would have a greater role.
The council's 13 Green Party councillors oppose the move.
John Barradell, the council's chief executive, said many services would still be provided in-house but a new strategic unit would decide which services were outsourced to the voluntary or private sector.
Mr Barradell was speaking ahead of the government's Comprehensive Spending Review on 20 October, which will unveil cuts aimed at tackling the country's deficit.
He said: "We need to do something different for Brighton and Hove at a time when money is tight and we know resources are going to be limited.
"Certainly, next week we are not expected to hear good news for local government.
"Nonetheless, it is the time to look at better ways of working, of more efficiency, but also making sure we are effective at the same time."
The council said that from November, the strategic unit would commission services, based on research and focused on the needs of residents.
Green Party councillor Jason Kitkat said: "Intelligent commissioning is about going out and asking people to put a bid in to do the work.
"So rather than the council doing it itself, it's asking private firms and others to put a figure on it and say if they can do it cheaper.
"No one's arguing that we could improve things, of course we can, but that's not to say that there's going to be a magic saving just by going out on a commissioning route."
Related Internet Links
The BBC is not responsible for the content of external sites.