Kray twins and Sir Elton John memorabilia sold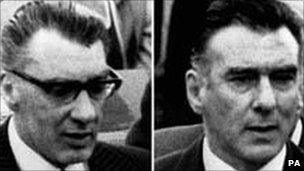 More than 160 previously unseen letters and photographs belonging to gangsters Ronnie and Reggie Kray have been sold at auction for £20,780.
One photograph, showing Ronnie with Tory peer Lord Boothby, sold for £550.
Lord Boothby sued the Daily Mirror after it was alleged that the pair were involved in a homosexual relationship.
In one of the letters - littered with spelling mistakes - Ronnie reveals his pleasure at receiving a letter from singer Cliff Richard.
The items were sold at Gorringes Auctioneers in Lewes, East Sussex, by the twins' official biographer John Pearson, who became their close confidant after they were jailed for murder.
The Boothby scandal broke in 1964 when the Daily Mirror reported that Scotland Yard was investigating a relationship between an unnamed peer and a major criminal underworld figure.
Lord Boothby denied the story referred to him and received £40,000 in damages from the newspaper.
In one of the letters - which sold on Tuesday for as much as £260 each - Ronnie Kray complained to Mr Pearson that he received only a written apology.
"Since then the police have not left us alone and have framed us on diferent charges, and now for murder," he wrote.
"I say their is a law for the rich and one for the poor."
The letter ends: "So until I see you again, the best of luck, your friend Ron. PS: Charly, Reg and Dick send you their best wishes."
In another letter, Ronnie wrote: "John, I had a verry nice letter from Cliff Ritchards. I thought it was marvoulas of him to write to me at a time like this.
"He must be a wonderfull person to go to the trouble at a time like this. Their are still a lot of nice people left around."
Mr Pearson said after Tuesday's sale it was time to close the files on the Krays.
"It's a goldmine of previously unpublished material," he added. "It's the sort of archive that anyone wanting to write about the Kray twins would want to have."
Memorabilia belonging to pop star Sir Elton John was also sold at the auction for a total of £28,820.
Among the 227 items were four silk Versace stage suits that Sir Elton wore on tour and artwork by Sam Taylor-Wood which featured on the sleeve of his album, Songs From The West Coast.
The highlight of the sale was said to be two sets of framed discs commemorating the 63-year-old musician's 43 million record sales in the United States. They sold for £1,500.
The collection was sold by Sir Elton's mother Sheila Farebrother, who said afterwards: "I am delighted with the success of the sale, his fans have been able to buy a slice of Elton history and the whole event has brought back some wonderful memories."
Related Internet Links
The BBC is not responsible for the content of external sites.