Clean-up continues at polluted Shinewater Lake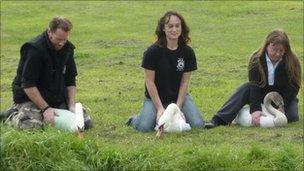 Work is continuing to protect wildlife at an east Sussex lake following a major sewage leak.
Environment Agency (EA) officers are currently re-oxygenating Shinewater in Lake Eastbourne to prevent the loss of fish and animals.
It started a criminal investigation on Wednesday after a large amount of sewage from Polegate entered the lake.
The public have been urged to stay away from the water until work to clear the leak has been completed.
At least four swans have been rescued from the lake by East Sussex Wildlife Rescue and Ambulance Service (WRAS) since the incident.
Michael Turner, from the Environment Agency, said: "We have limited major damage to the lake, but there is still a risk to local wildlife.
"The clean up operation is going well so far, but this is a major pollution incident and it will be some time before the damage is rectified.
"Our emergency officers have been working tirelessly around the clock to control the pollution and we are starting to see signs that the situation is improving, with dissolved oxygen levels in the water improving."
He added: "We continue to advise people to stay out of contact with water in the area, including by fishing. Shinewater Park is still open to the public."
"Once the work to limit the pollution damage is complete, we will continue to monitor the lake. We have started an investigation to find out exactly what caused the spill in the first place."
The EA and Southern Water have been at the lake since the incident was first reported by members of the public on Wednesday.
The EA has the power to undertake criminal investigations under the Environmental Protection Act.
Related Internet Links
The BBC is not responsible for the content of external sites.