Demolition work to begin at fire-hit Hastings Pier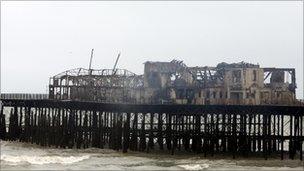 Demolition work is to begin at Hastings Pier to make it safer after a fire destroyed the structure.
Hastings Borough Council said it was using emergency powers to remove debris because the pier's owner, Ravenclaw Investments, had taken no action.
The authority said it was also having to employ a security company to stop people walking under the pier which closed to the public in 2006.
The fire on 5 October destroyed 95% of the upper part of the attraction.
Council leader Jeremy Birch said normally a property owner is expected to make a building safe but he had heard nothing from Ravenclaw Investments.
He said: "We are therefore using our emergency powers to ensure that the building is made as safe as it can be and we expect our demolition contractor to move on site within the next few days.
"They will remove fire damaged debris which could fall or be blown off the pier from the front and central sections, where the bingo hall and amusement arcades were."
He urged the public not to approach the pier from the beach and not to walk under it even after the works were carried out.
Two men, aged 18 and 19 from St Leonards, have been arrested on suspicion of arson over the fire and bailed until 2 November.
Related Internet Links
The BBC is not responsible for the content of external sites.