East Sussex sex abuse fear vicars allowed to work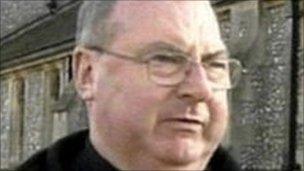 Two vicars were allowed to work at churches in East Sussex following serious sex abuse allegations, a BBC South East investigation has revealed.
Roy Cotton, who died in 2006, worked as a parish priest in Brede near Rye in the 1990s despite being convicted of a sexual offence against a boy in 1954.
Collin Pritchard served as the vicar of St Barnabas, Bexhill, until 2007 after being arrested over sex abuse claims.
The Diocese of Chichester has appointed a judge to carry out an investigation.
In 2008 Pritchard pleaded guilty to sexually abusing two boys in the 1970s and 1980s and was jailed for five years.
The offences took place while he was parish priest at St Andrew's Church in Wellingborough, Northamptonshire.
The court heard that Cotton had been involved in the offences but died in 2006, two weeks before Pritchard was arrested.
Pritchard and Cotton first came to the attention of Sussex Police in 1997 after two abuse victims came forward.
The victims said they were sexually abused by the pair during foreign holidays and camping trips.
The Crown Prosecution Service (CPS) decided there was not enough evidence against them but kept its files open.
The Diocese of Chichester has confirmed the pair were given permission to officiate by different bishops despite their arrests and Cotton's previous conviction, which lay on his church career file.
Cotton continued to serve as a parish priest until 1999 and Pritchard worked at St Barnabas between 2001 and 2007, both apparently without supervision.
In 2006 Northampton Police started a fresh investigation after another victim told police they had been abused.
Pritchard was suspended in September 2007 when a new safeguarding officer at the diocese realised he was a risk to children.
Pete Saunders, of the National Association for People Abused in Childhood (NAPAC), said: "I think they are more than safeguarding errors, there seems to have been an almost malicious and deliberate attempt to bypass the safeguarding measures that exist."
Referring to Cotton, child protection expert Chris Mills said: "People with serious convictions should never be allowed to work with children in any unsupervised capacity.
"At the time in 1997 it is clear that this person needs to have been suspended pending the outcome of an investigation but also pending the outcome of the employer's own investigation into whether this person was suitable to continue working with children."
Following Pritchard's conviction in 2008 the current Bishop of Chichester commissioned an independent investigation into the cases of the two men.
Despite requests by BBC South East Today the Diocese of Chichester has refused to release the document.
The churches' safeguarding expert told BBC South East a second investigation had been started because of "issues" with the findings of the first report.
Archdeacon of Hastings and Lewes, the Venerable Philip Jones said: "The Diocese of Chichester gives the protection of children the highest priority and takes seriously all concerns raised.
"As we have indicated to the BBC, a review is being undertaken into safeguarding practice in the diocese and in regard to questions raised by this BBC report.
"We do not wish to pre-empt the outcome of that review and are unable to comment until it is completed."
The discovery also comes after it was revealed that East Sussex vicar Ronald Glazebrook, who is believed to have abused a former altar boy, was allowed to serve at a church despite being convicted of possessing a gun.
The Church of England said it would begin an investigation into the matter, following the revelations in September about Mr Glazebrook who died in 2001 after he was attacked at his home in East Sussex.
Related Internet Links
The BBC is not responsible for the content of external sites.