Brighton shopkeeper says thief should have been jailed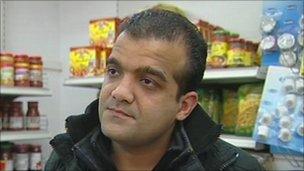 A Brighton shopkeeper has spoken of his outrage after a teenager who stabbed him during a robbery was not jailed.
Mo Shah, 30, needed stitches for a wound in his arm after he was targeted by two boys, aged 15 and 13, at Preston Foods in Preston Drove in March.
Both youths were convicted of robbery and assault, with his attacker, now 16, receiving a youth rehabilitation order and a curfew under an electronic tag.
Mr Shah said he thought the sentence was too lenient for a knife crime.
The youth was also ordered to pay £200 compensation and his father was given a 12-month parenting order.
"I was hoping that he would receive some type of custodial sentence," Mr Shah said.
"What the government has said about dealing with knife crime... in this case they haven't been tough on knife crime."
Statistics published this month showed there had been a total of 29,981 knife crimes reported by the police in England and Wales in the year to June 2010 - down 7%.
The government said it was taking knife crime seriously but more had to be done to crack down on it.
Related Internet Links
The BBC is not responsible for the content of external sites.