Counterfeit clothing donated to Eastbourne charities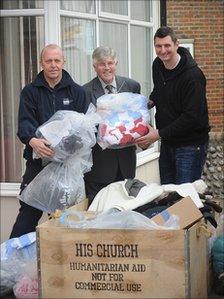 More than £10,000 of counterfeit clothing has been handed over to local charities in an East Sussex town.
The clothing was seized by East Sussex County Council's trading standards and given to the Salvation Army and Oasis Christian Outreach in Eastbourne.
It was all de-branded before being re-branded with the His Church Charity label so that it could be legally distributed within the UK.
Seized counterfeit food and household goods were also donated.
Councillor Bob Tidy said the partnership with His Church Charity enabled goods to be recycled rather than having to be destroyed, as previously.
"Not only are we continuing to stop the counterfeiters but now charities are benefiting from the goods that we take off the streets," he said.
Related Internet Links
The BBC is not responsible for the content of external sites.