Eastbourne taxi firm sponsors schools' lollipop man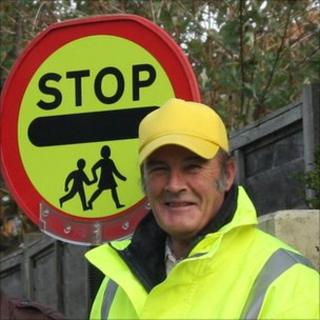 A taxi firm has stepped in to pay the wages of a school lollipop man who was threatened with being moved elsewhere.
East Sussex County Council said a new crossing meant David Bousfield was no longer needed outside Roselands Primary School and Stafford Junior School.
Eastbourne Radio Cars has agreed to pay the majority of Mr Bousfield's wages in exchange for their logo on his uniform.
Mr Bousfield, who has worked outside the schools for five years, said it had been a "lifesaver".
'Lesser priority'
"When I took the job in 2005 I had just been laid off from my previous position," he said.
"This little job has kept me going. I have made lots of friends and I am very glad to be able to keep doing it."
The council said since the zebra crossing was built, a lollipop man had become a "lesser priority" for St Phillips Avenue.
Councillor Matthew Lock, the cabinet member for transport and environment, said: "In the current financial climate we need to look at new ways to raise funds for projects.
"Local businesses and community groups can help us with this."
Mike Chant of Eastbourne Town Radio Cars said the company would be happy to support Mr Bousfield "for many years to come".
The headteachers of both schools said they were delighted Mr Bousfield was staying.