Girl mauled to death by dog kept in yard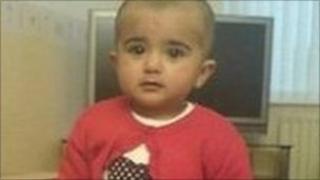 A coroner has raised concerns about the safety of American bulldogs after an 18-month-old girl was mauled to death.
Zumer Ahmed was attacked by her uncle's dog in the kitchen of her home in Crawley, Sussex. She died from blood loss and a fractured skull.
Coroner Penelope Schofield questioned whether it was safe to live in close proximity with American bulldogs.
Police said the dog was kept in a yard and an animal behaviourist said its environment could "create aggression".
Zumer was with her grandmother, mother and sister when the dog attacked her in the kitchen of their home in Broadfield.
Police said the dog had picked up the toddler and mauled her in front of her family.
Zumer was taken to East Surrey Hospital in Redhill but died shortly after arrival. A post-mortem examination showed she had suffered multiple dog bites.
The dog was later destroyed.
After the attack, Zumer's uncle, Urfan Ahmed, 32, was arrested on suspicion of manslaughter but police later said there was insufficient evidence to prosecute him over the death.
'Tragic case'
Det Ch Insp Trevor Bowles, of Sussex Police, said the dog had posed a significant threat to people.
He added: "That's why it was kept in the rear yard and never allowed in the house."
Dean Hart, a canine behaviourist, said American bulldogs should not necessarily be on a list of banned breeds.
He said: "There are going to be dogs that can be aggressive that may not ever be on that particular list because it's experience, what the dog goes through, and the perception of the dog's environment that can create aggression."
Ms Schofield said: "This was a tragic case involving an 18-month old girl whose life was taken away in the most appalling circumstances.
"The little girl had no chance. The dog was six times her body weight and acted instinctively.
"American bulldogs are listed on some websites as suitable family pets. There is very little mention about their threat to young children.
"I question whether it is really safe to live in close proximity with these dogs."
The coroner recorded a narrative verdict at the inquest into Zumer's death.
She added: "She [Zumer] died as a result of being savaged by an American bulldog in her own home. The dog was kept in a rear yard owned by relatives who were also living there."