Restored Southease Bridge officially opened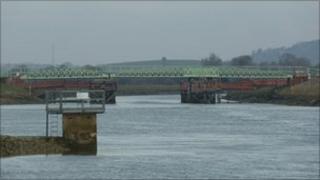 A 27-tonne iron bridge in East Sussex is being officially opened after a £1.7m restoration which involved lifting it from its position by crane.
Work on the 18th Century Southease Bridge on the River Ouse, between Lewes and Newhaven, took six months.
The restoration of the Grade II listed swing bridge took place in a yard on the east bank of the river.
Chairman of Southease Parish, Neville Harrison, said he was delighted the restored bridge was now back in use.
During the restoration, a temporary footbridge was installed for walkers and dismounted cyclists but other users had to take a six-mile (10km) detour.
The bridge was first constructed in 1791 and then rebuilt in the 1880s and has been described as a "historical gem" by the Environment Agency which carried out the work.
The wrought iron structure, which had suffered corrosion and twisting of the supports, was strengthened during the refurbishment.
The turntable was replaced, along with the deck and supporting timbers.
"There are very few swing bridges, particularly in a rural setting, surviving today and it is wonderful that this iconic structure, which blends well with the downland scenery, will continue to be seen and enjoyed by walkers and riders on the South Downs Way for years to come," said Mr Harrison.
Project manager for the Environment Agency, Ian Nunn, said: "It's great to see projects like this come to fruition.
"We have been greatly supported by the local community and our partner organisations and as a result, this project has been a real success."