Arsonists target saved railway signal box near Bognor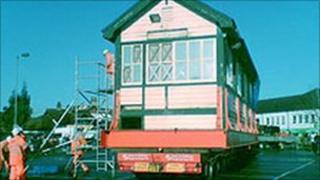 An Edwardian signal box that campaigners fought to save from demolition has been severely damaged in an arson attack in West Sussex.
The Barnham Signal Box was moved to playing fields in Westergate, near Bognor Regis, last year and was being used a community centre.
West Sussex fire crews said a blaze at the centre on Thursday night had left the first floor severely damaged.
A fire service spokeswoman said the blaze was a confirmed arson attack.
The incident is still being investigated.
Fundraising campaign
Last December, the timber signal box was moved 1.8 miles (2.9km) from Barnham railway station to Aldingbourne playing fields.
A crane was used to lift the box on to a low loader in a "delicate operation" .
The signal box was saved from demolition after funds were raised locally and from the Railway Heritage Trust and Network Rail.
Fundraising continued this year amid hopes that the structure, built in 1911, could be restored.
At the time, West Sussex county councillor Derek Whittington said many people had worked on the project to take the signal box to its new home.