Call from ex-policeman to ban cheap alcohol in Brighton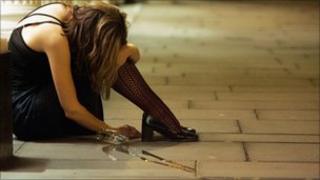 A former senior policeman has called for a ban on cheap alcohol in Brighton to curb binge-drinking.
Jeremy Paine, a former assistant chief constable with Sussex Police, has suggested setting a minimum price per unit of alcohol.
He said excessive drinking had become a "very serious problem" in the city.
Brighton and Hove City Council said it was not considering the idea but had set up a panel of experts to look at ways of tackling binge-drinking.
Mr Paine told BBC Sussex: "We've been accelerating our efforts to come up with effective measures to reduce the harm caused by too much drinking.
'Serious problem'
"Sadly in this city people do drink too much alcohol and we have got to try and find a way for people to drink less.
"It's not about solving the problem or stopping all people drinking alcohol, that would be ludicrous.
"It's about having an effect on what is currently a very serious problem."
Greater Manchester's local councils are considering creating a minimum price for the sale of alcohol in the region.
It would make it illegal to sell alcohol for less than 50p per unit in shops and bars in the region.
A spokesman for Brighton and Hove City Council said: "In simple terms we're not currently looking at it here.
"At this stage we're looking at what happens in Manchester."
A panel of experts would meet in January to discuss ways to curb excessive drinking, he added.