Parents warned over student march in Brighton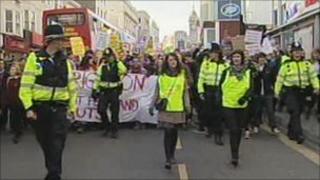 Police have made a direct appeal to parents of schoolchildren who want to take part in student protests against tuition fees planned in Brighton.
Supt Steve Whitton, of Sussex Police, said children could become vulnerable and parents and carers should make sure they understood the consequences.
He warned residents, businesses and people planning to visit the city on Tuesday that disruption was expected.
Five 15 and 16-year-olds were arrested in similar protests held last week.
A 41-year-old man was also held during Wednesday's protest, which involved an estimated 2,500 people. All those arrested were later bailed.
The "Stop the Cuts" protests in Brighton and elsewhere in Sussex are part of a third day of student action planned across the UK.
Many students are angry about government plans to allow universities to charge tuition fees of up to £9,000 a year.
Supt Whitton said the organisers of the marches had been co-operative and informed police of their intentions.
The march is due to start in Victoria Gardens at 1330 GMT and move into North Street and Western Road.
Supt Whitton said groups broke away from last week's march and caused disorder, criminal damage and disruption.
"Many people expressed concern that there were children involved in the recent demonstration, some of whom found that they were held in containments by police to prevent further breaches of the peace and to allow police to carry out controlled dispersals," he said.
"We have continued to work closely with schools and Brighton and Hove Council to communicate this message.
"We will facilitate peaceful protest but the issue of whether children take part is one for parents and carers."