Five arrested after Brighton tuition fees protest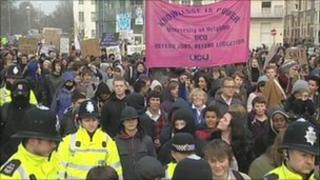 Five people, three of them 15-year-olds, were arrested during a second day of student protests against tuition fees in Brighton, Sussex Police said.
Supt Steve Whitton said about 800 protesters took part in marches through the city on Tuesday and about 250 police officers were deployed.
One 15-year-old, from Worthing, was arrested on suspicion of criminal damage at McDonald's in London Road.
Two others were held for a public order offence and failing to provide details.
As well as the schoolchildren, an 18-year-old man from Hove was arrested on suspicion of breach of the peace and resisting arrest and a 21-year-old man for a public order offence.
Mr Whitton said further arrests were anticipated.
He said one police officer had been assaulted during the protest and another had received a muscle injury.
'Missiles thrown'
Police said organisers of the march had been co-operative and had helped the policing operation.
"Unfortunately a significant group within the protest were intent on causing disruption and chose to break away from the march," said Mr Whitton.
Police said a small group of protesters had thrown three missiles from a multi-storey car park near Hove Town Hall.
Later, a group of about 150 protesters was contained in the area near St Peter's Church in York Place.
The "Stop the Cuts" protest in Brighton was part of a third day of student action across the UK.
Many students are angry about government plans to allow universities to charge tuition fees of up to £9,000 a year.
Five 15 and 16-year-olds were among six people arrested in similar protests held in Brighton last week. All those arrested were later bailed.